DBT in the treatment of Complex Eating Disorders: Part I - Targeting
Tuesday 16th November 2021 - 2:30pm to 4:30pm (NZT)
Online registrations closed on 9 November 2021 for this training.
A two hour web-based training
Staying focused on managing food and weight goals with multi-diagnostic eating disorder clients can be a challenging task. There simply isn't time in any one session to address it all. Avoiding inadvertent reinforcement of other life threatening and therapy interfering behaviours when they invariably move focus off eating and weight (which our clients commonly don't want to address) is a challenge. Knowing when and how to target disordered eating is not always clear. Newer models are being developed for treating multi-diagnostic EDs within DBT and have strategies to address these issues. The standard DBT target hierarchy, when used with a specific ED focus, can assist clinicians to know when to focus on the ED and when to prioritise other life-threatening behaviours – without losing sight of the ED in the process.
Note this training is complementary to our other current eating disorders training, but can be attended separately.
Learning Objectives:
Identify where ED behaviours fall on the DBT target hierarchy
Learn how to target multiple ED behaviours in the context of suicide, self-injury etc
Ensure you have the necessary medical information for effective targeting
See variations on capturing ED targets on the diary card with behavioural specificity
Learn about food and fluid tracking – considerations for when and why to incorporate this into standard DBT
Participate in case scenarios "what would you target first..."
Note: if this training is sold out then you will be able to join a waitlist. If we repeat this training then those on the waiting list will be the first to be offered a place for the new training.
Training Level
This is an intermediate to advanced level training.
Trainers: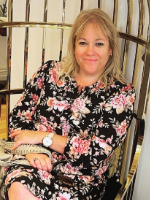 Shelly Hindle is a Clinical Psychologist in New Zealand who is currently working in a DBT lead role in an Auckland DHB. This role includes development and implementation of various DBT initiatives across settings including DBT in schools, emotion regulation skills training groups for adolescents, and DBT for co-morbid eating disorders. She is also working for Tupu Ora Regional Eating Disorder Service in a programme development role. Shelly's previous roles include working in a large specialist eating disorder service where she was the lead developer of a comprehensive DBT programme for adults with co-morbid Anorexia Nervosa, across the residential, day programme and outpatient setting. Shelly has presented at international conferences on DBT for eating disorders and is the elected co-chair for the Suicide and DBT Special Interest Group for the Academy for Eating Disorders. Shelly provides individual and team supervision in DBT and consultation on DBT for Eating Disorders. Shelly's interests include training and supervision in DBT and implementation projects; particularly around adaptations of DBT (DBT for ED's, Adolescents, DBT-PE, DBT in Schools etc).
Details:
Where:
Online with Zoom.
When:
Tuesday 16th November 2021 - 2:30pm to 4:30pm (NZT)
Times:
Tuesday 16th November 2021 - 2:30pm to 4:30pm (NZT)
Registration:
Register online (see below)
Web based training - we will send the Zoom link nearer the time.
Cost:
$100 + GST = $115
Terms and conditions:
A registration is for one person. To successfully manage the event, we expect only one person to join the webinar as part of your registration.
You agree not to record the meeting in any way. You agree not to distribute materials to other persons without prior agreement.
Registrations are confirmed only when payment is received by credit card (with Paypal) or electronically.
Payment must be made before the training. By registering you accept liability for the costs of the training.
Cancellations must be notified to us by email (or the website contact form) with full identifying information.
Cancellations received more than seven days before the event will receive a refund of the fees paid less an administration charge of $50+GST (for each event).
Refunds cannot be given after that date. Refunds will not be available until after the event.
A colleague may be substituted for no extra charge if we are notified at least two business days before the training event.
In the unlikely event the training is cancelled by the organisers, registration will be fully refunded but no liability will be accepted for travel, accommodation or other costs/expenses incurred to registrants.
Online statements of attendance can be downloaded by all participants from this page. Printed certificates of attendance are not available for this event.
Online registration:
Online registrations closed on 9 November 2021 for this training.