Introduction to Dialectical Behaviour Therapy - Sept2021
Tuesday 3rd and Wednesday 14th Sept 2021
Sorry, registrations are closed
This two-day workshop is an introduction to Dialectical Behaviour Therapy (DBT) intended for mental health professionals who wish to acquaint themselves with the treatment or who are considering further training in DBT. The training introduces change-based technology (behaviour therapy) with acceptance-based principles (validation), along with dialectical strategies that provide the balance of acceptance and change. It also highlights the frame of DBT and defines the modes and functions of comprehensive DBT. We introduce a core selection of skills from the 2015 Skills Training Manual (2nd Ed.). Methods of instruction include lecture, demonstration, and practice exercises to teach the principles and strategies of DBT.

This training has been developed by Dr Marsha Linehan and is delivered by our trainers in collaboration with Behavioral Tech and The Linehan Institute. It is an update of the 2-day "Coping with Chaos" which has previously been offered in New Zealand.
We are offering this training via Zoom for the first time. This will allow us to provide the training without the risk of disruption from covid lockdowns and also model how to effectively offer elements of the treatment remotely. We have experience in delivering DBT trainings and therapy sessions remotely, and are committed to making this an engaging, rich, and interactive experience. The online format will also reduce the barriers of travel and accomodation.
Training Level
This is a beginning to intermediate level training.
Trainers:
Mike Batcheler is a clinical psychologist who has worked in NZ and UK mental health settings since the mid-1990s after initially working for NZ Department of Corrections in the early 1990s. He was a founding member of New Zealand's first dialectical behaviour therapy (DBT) programme in 1998 and works as a DBT therapist, skills trainer and programme coordinator in an adult DHB DBT programme. He was a research therapist on a NZ DBT trial with self-harming adolescents and their families. He is a founding member of DBTNZ. Mike has considerable experience consulting and training in New Zealand. He has been a trainer for a number of Behavioral Tech licensed events including DBT intensive trainings. He is a DBT-Linehan Board of Certification Certified Clinician™ and has experience in DBT adherence coding.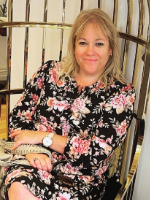 Shelly Hindle is a Clinical Psychologist in New Zealand who is currently working in a DBT lead role in an Auckland DHB. This role includes development and implementation of various DBT initiatives across settings including DBT in schools, emotion regulation skills training groups for adolescents, and DBT for co-morbid eating disorders. She is also working for Tupu Ora Regional Eating Disorder Service in a programme development role. Shelly's previous roles include working in a large specialist eating disorder service where she was the lead developer of a comprehensive DBT programme for adults with co-morbid Anorexia Nervosa, across the residential, day programme and outpatient setting. Shelly has presented at international conferences on DBT for eating disorders and is the elected co-chair for the Suicide and DBT Special Interest Group for the Academy for Eating Disorders. Shelly provides individual and team supervision in DBT and consultation on DBT for Eating Disorders. Shelly's interests include training and supervision in DBT and implementation projects; particularly around adaptations of DBT (DBT for ED's, Adolescents, DBT-PE, DBT in Schools etc).
Details:
Where:
Online with Zoom.
When:
Tuesday 3rd and Wednesday 14th Sept 2021
Times:
9.00am until 4.30pm daily. Sign in from 8.15am on the first day.
Registration:
Register online (see below)
An online training - we will send personalized Zoom links nearer the time.
Cost:
NZ$400.00 + 15% GST(NZ$60.00) = NZ$460.00
Terms and conditions:
A registration is for one person. To successfully manage the event, we expect only one person to join the webinar as part of your registration.
You agree not to record the meeting in any way. You agree not to distribute materials to other persons without prior agreement.
Registrations are confirmed only when payment is received by credit card (with Paypal) or electronically.
Payment must be made before the training. By registering you accept liability for the costs of the training.
Cancellations must be notified to us by email (or the website contact form) with full identifying information.
Cancellations received more than seven days before the event will receive a refund of the fees paid less an administration charge of $50+GST (for each event).
Refunds cannot be given after that date. Refunds will not be available until after the event.
A colleague may be substituted for no extra charge if we are notified at least two business days before the training event.
In the unlikely event the training is cancelled by the organisers, registration will be fully refunded but no liability will be accepted for travel, accommodation or other costs/expenses incurred to registrants.
Online statements of attendance can be downloaded by all participants from this page. Printed certificates of attendance are not available for this event.
Online registration:
Sorry, registrations are closed